Welcome to The Junior Women's Club of Mentor.  
Our meetings begin at 7:00 for social and 7:30 the meeting begins.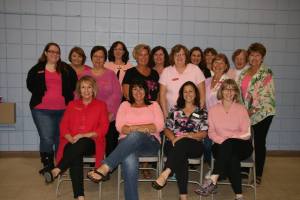 Mentor Junior Women Celebrate Breast Cancer Awareness Month by wearing PINK!!!!
The Junior Women's Club of Mentor is a non-profit, non-denominational volunteer organization.
Meetings take place the Second Thursday of the month from September through May. Location: Mentor United Methodist Hall 8600 Mentor Avenue Mentor, Ohio 44060 Time: 7:00 pm Social 7:30 pm
General Meeting Schedule: 2014/15
Anyone is welcome to attend any meeting.  Come see what we are all about.
Membership is open to all women 21 years of age and older. For Additional Information: Click Here to Contact Us
---
The Junior Women's Club of Mentor (JWCM) has had a strong presence in Lake County for 53 years. Our continuous community support is primarily due to the smaller non-profit charitable organizations in the area.  In addition, High School and Leaf Scholarships along with an Angel Fund are donated annually.
The women of the JWCM volunteer their time and resources compassionately and selflessly requesting only the support of the members of the community to help us do our work by attending our events, donating cash and gifts for our raffles.  
In addition, the JWCM values the safety of our children and has sponsored the Mentor Safety Town for the past 25 years in partnership with the Mentor Fire and Police Departments. State Board certified teachers are hired to instruct the children and local area students volunteer as teen aides.
Reverend Father Johns of St. John Vianney, located on Bellflower Road in Mentor has generously offered to facilitate this year's Safety Town in June, 2015.
To register for Safety Town or inquire about becoming a member of JWCM, please click here.
Safety Town Dates – June 8-12 and June 6-26, 2015
---
The Junior Women's Club of Mentor (JWCM) is a non-profit civic organization of local women committed to promoting volunteerism, aiding the local community and fostering new friendships.
The Junior Women's Club was formed in Mentor, Ohio in 1962. Currently there are more than 20 dynamic women who dedicate much of their time and energy to the Lake County Community.
The women of the JWCM meet monthly from September through May working on various community projects and fundraisers, along with offering Safety Town in partnership with the Mentor Police and Fire Departments. Safety Town is a safety awareness program for children ages four through six.
In addition to a High School Scholarship, Leaf Scholarship and an Angel Fund, volunteerism and donations are made to various organizations including, but not limited to:
Birthright
Coaches Corner
Crossroads
Deepwood Foundation
Forbes House
Lake County Church Network
Lake County Victim Assistance Program
Lake Metroparks
Lifeline for the Empowerment of Consumers, Inc.
Project Hope for the Homeless Ecumenical Shelter Network of Lake County, Inc.
St. James Lunch Program
The Salvation Army Learning Zone
Victim Assistance Program
Junior Mission Statement: Strive to enrich the community through Spirit, Service and Sisterhood.